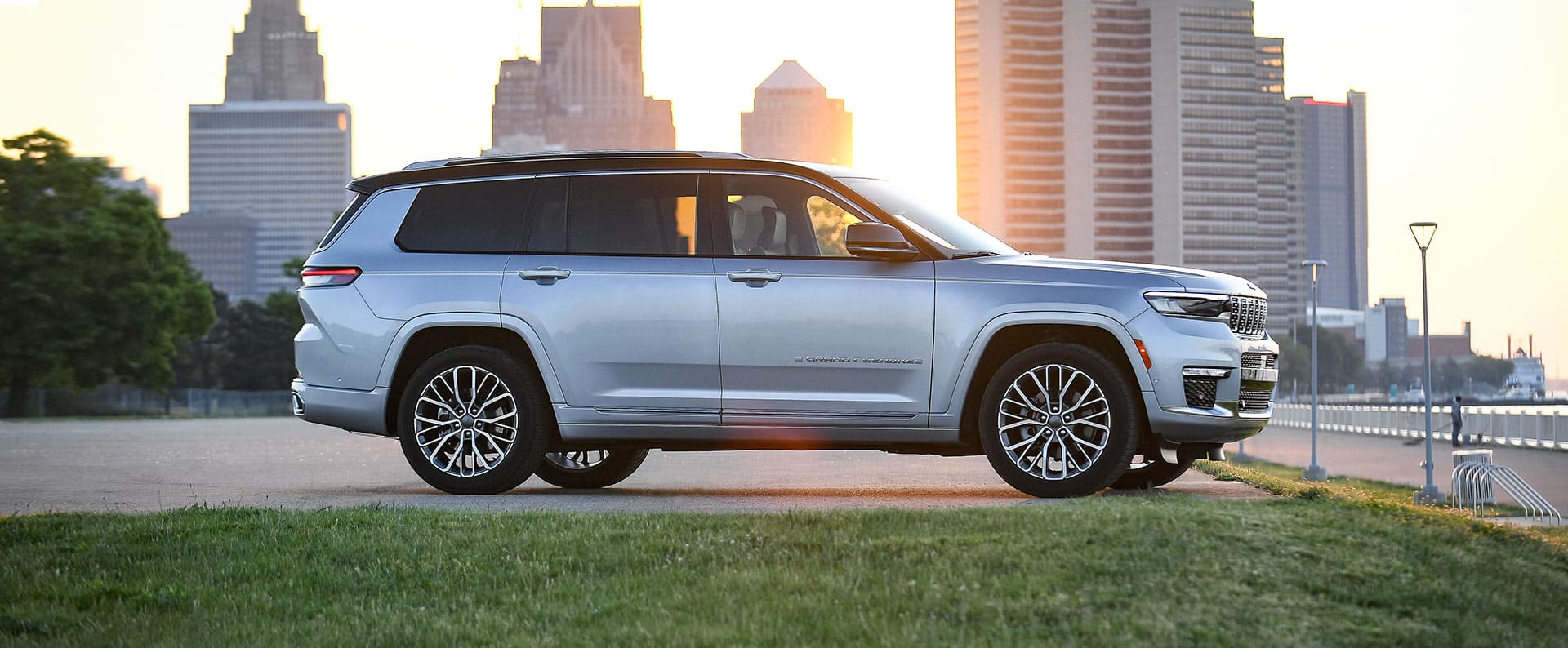 Top Grand Cherokee L Mopar Accessories
Learn How to Personalize Your Jeep With These Accessories!
The 2021 Jeep Grand Cherokee L has found its place within the three-row SUV market, and is the perfect choice for everyone who loves the classic style and powerful capability of a Jeep SUV, but who wants the extra space afforded by the third row of seats. The Grand Cherokee L is great for traveling as a family, as well as for off-road adventures thanks to its Quadra-Lift Ait Suspension and 7,200-pound maximum towing capacity. Inside, the cabin is sleek and refined with classic Jeep design cues, as well as luxurious features like Capri or Nappa leather, and the new Uconnect 5 infotainment system. The L has a lot to love on its own, but if you really want to make the most of your Jeep, it's a great idea to consider some of the many Mopar accessories that will help you personalize your SUV to best fit your lifestyle!
Protective Accessories
These accessories will help protect different parts of your Jeep Grand Cherokee L both inside and out, and keep it looking good as new! The ribber floor mats can be easily cleaned off to remove dirt or debris, perfect for anyone who wants to bring their Jeep on a hiking or camping trip. Similarly, the cargo area mats will protect the cargo floor, no matter what you pack. A license plate frame is a great way to make sure your plate doesn't bend or warp, while also adding a clean border to the outside edge. Lastly, pedal covers will protect your pedals from wear and tear, and improve their lifetime.
Rubber Floor Mat
Cargo Area Mat
License Plate Frame
Pedal Cover
Rooftop Sports Equipment
If you're a fan of outdoor activities, you'll be pleased to know that Mopar supplies genuine Jeep accessories that will enable you to bring anything you could possibly need on your next adventure. There are several different types of racks that are designed to fit specific sports equipment. You can securely carry kayaks, canoes, skis, snowboards, bikes, and more, all on top of the vehicle! You'll never have to worry about trying to tie down your equipment on your own, and you'll know that your gear is safe for the journey!
Kayak Rack
Surf Board Rack
Winter Sports Rack
Bike Rack
Interior Accessories
There are plenty of available accessories for the interior of your Jeep Grand Cherokee L, from storage solutions, to safety kits. For the rear cargo area, you can add a storage tote that has four different boxes that you can sort all your items into, and keep them safe and organized. There's also a travel pet crate so you can keep your furry friends happy on even the longest drives. There are several different types of safety kits that you can keep in the car for if they ever come in handy. There are first aid kits with all the essential things you might need like band-aids, wipes, and cold packs. There's even a roadside safety kit with gloves, jumper cables, and reflective cones.
Storage Tote
Pet Crate
First Aid Kit
Roadside Kit
Towing & Performance
The Mopar eStore stocks plenty of parts and accessories that will keep your Jeep Grand Cherokee L working its best! There are a few different accessories to enhance your Jeep's towing capabilities, such as a tow hitch ball in multiple different sizes, and even a tow hitch adapter. There are also parts that enable you to do simple maintenance that goes a long way, such as replacement windshield wiper blades, and replacement valve stem caps. There are also parts like spark plugs, air filters, and oil filters that can be swapped out to help increase the longevity of your Jeep.
Tow Hitch Ball
Tow Hitch Adapter
Wiper Blades
Valve Stem Caps
Find New Jeep Inventory, and Mopar Accessories at Rochester Hills!
Here at Rochester Hills Chrysler Dodge Jeep Ram, we have tons of new Jeep inventory, including the 2021 Jeep Grand Cherokee L! You can also browse all these accessories and more right here on our website by clicking on the Jeep Parts page under the Mopar Parts & Service tab. We will order and install any of the parts you need, and you can submit your request, and even schedule your appointment all online! If you have any questions about which accessories might be right for you, simply give our service center a call, or come visit us in person at our dealership in Rochester Hills, Michigan. We look forward to helping you find the perfect accessory for your Jeep!