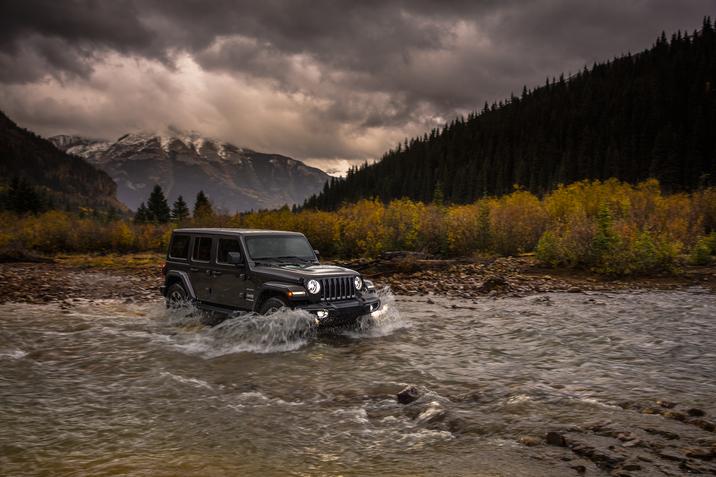 Tips For Jeep Off-Roading
So you have purchased a Jeep (or are about to) and want to have fun taking it off-road, and want to do that safely too? Come with us here at Rochester Hills CDJR as we go over some tips and tricks to make that happen! Buying an off-road focused vehicle can be easy, and so can taking it out on the trails for a spin. In order for that to happen, there are certainly some points to go over before, during, and after your adventure.
Tip 1:
This might seem not terribly exciting at first, but it will pay off when you are out on the trails in a tough spot: know your vehicle. Start with the manual, check through this because all kinds of valuable info is there, including capacities and fluid levels, as well as what might not be so obvious warnings. How exactly do you lock it into 4WD and disconnect the sway bar? What is the ground clearance and the departure angle? Where is the tire jack, never mind the spare tire, for instance. These are all points that you want to know cold before your outing, not panic-flipping through the manual while on a slippery incline. Think of it as a task to get done like homework but with real-world value to you. Plus, you will talk specs at the drop of a hat when you're at the night-time campfire later. Bring along a first aid kit, some extra food and water, a capable tow line, a map, matches, a knife, and the other basic survival essentials. Remember as well an air gauge, tracking mats, a folding shovel, tools, blankets, a hat, bug spray/sunblock, and know how to work that winch if you are going out in one vehicle!
Tip 2:
Conditions, conditions, conditions! Again, this one happens with more research and awareness ahead of your actual trip. What are you looking at getting into here sand, mud, water, boulders, gravel, slopes, frost-heaves, holes, tight turns? It's a great idea to go take your Jeep out on on some mini-versions of what you're going to get into, like a sandy dirt parking lot that's flat before you go out on a loose-dirt twisty inclined trail, and get familiar with how your Jeep feels in that environment. Check the weather, because dirt quickly turns to mud with rain, and know that your tire inflation levels sharply affect your traction capacity. In fact, it is recommended to lower your tires' inflation about 10-12 psi if you're going through loose sand, as well as take wide turns to not get stuck. The High-range 4WD setting is best for sand because it keeps you moving forward with momentum more than torque, where the opposite is needed for hard-packed dry dirt. Resist the urge to spin the wheels to "power" through things, usually the best approach is slower than you think it would be. If you lose traction in mud or sand, rotate the steering wheel back and forth until it catches better. Some basics on hills are good to have beforehand as well, like knowing they are meant to be traversed straight up and down - never at an angle unless you are intending to barrel-roll your way down (not recommended)! Going up a hill, hit the bottom with more torque and then slightly ease off near the top for best results. On the way down, use the lowest gear of the Jeep more than you use the brakes, this is better off-road handling and saves you money on less-frequent brake repairs! We should mention that river silt is way more difficult to traverse with traction than mud, look out for that too. Oh and puddles. These can be the bane of even an experienced off-roader because what's underneath is unknown, especially in a washed-out flood event. There could be some rusty metal thing in there, an un-see-able muddy hole, or even just a general masking of where the actual road edge is-- all of these are reasons to avoid.
Tip 3:
You shouldn't just go it alone, especially on your first outings, as you are (arguably) not a superhero yet. Bring a way to communicate besides a cell phone, and/or bring a friend who can help you look for pitfalls and problems. Keep an eye on what's coming ahead, not just what you are rolling over currently. If you can't see over a hill, maybe slow down a bit as there could be a sharp turn on a downhill, not to mention a downed tree or a moose. Be mindful of animals (which will likely hear your Jeep miles away but still may be caught off-guard) like turtles, snakes, and bears. The Park Ranger could be around, as well as concerned hikers and hunters, so remember that 4WD off-roaders should have respect for the land that they use as well, and give any animals a little time to move out on the road. In fact, many of these 4-wheeling fans are major conservationists and work with their towns to keep the trails still worth getting out on, as its win-win. If you are going further out than the norm, consider getting a CB radio and learning how to use it too, in case of an emergency. Feel free to actually park a moment before a particularly tough section of the trail to assess your plan, and talk it out with your friends. They can also be spotters for you, just make sure they know to stay well away and never "under" your potential sliding or rolling path (for obvious reasons)! Get used to flipping into 4WD from 2WD sooner than you think, no harm in that either!
Tip 4:
Remember to thoroughly overview your vehicle after your trip to make sure nothing bounced out, and check underneath to see if anything got significantly pinched or dented. Items may have come loose within the cabin, secure those back up before getting back on the highway. Re-calibrate your driving and suspension settings, remember to re-inflate tires as needed, and get a good stretch in before heading home. Knock off any major gravel rocks out of the tread and you're good to go - now all there is left to do is to add some filters to your photo feed that documents your outing! Have fun out there!
Rochester Hills CDJR Inventory
When you want to get into a Jeep of some kind, we've got them here! Come check out our current
new inventory
anytime, and know you can always fill out the Inquiry Form on this page if you like one in particular!