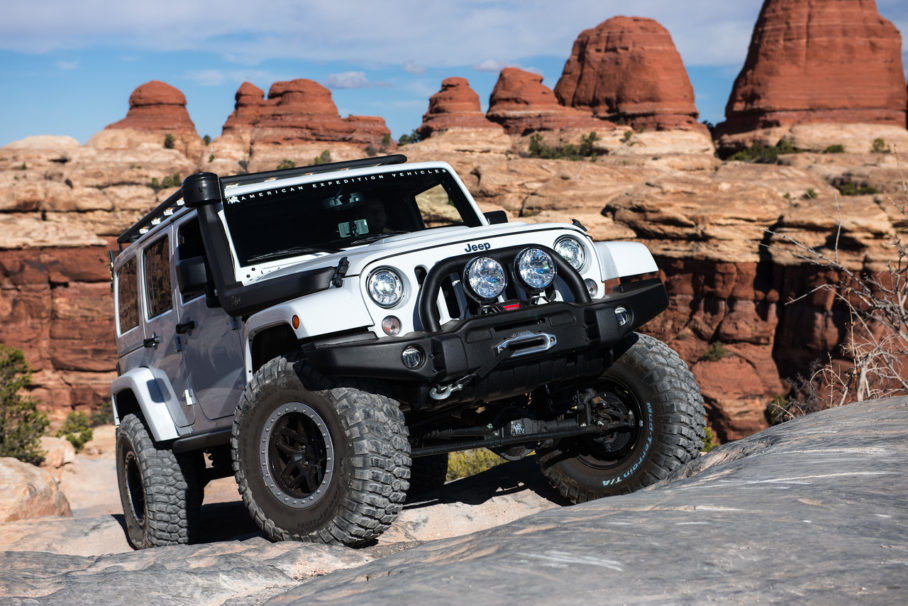 AEV Dealer for the Rochester Hills Area
Did you know Rochester Hills Dodge Chrysler Jeep Ram is an American Expedition Vehicles certified dealer? What is American Expedition Vehicles you ask? Well, American Expedition Vehicles or AEV is an aftermarket parts company that specializes in OE-quality Jeep and Ram off-roading parts. The company takes a no-compromise approach to develop its product lineup which includes suspension kits, front and rear bumpers, wheels, hoods, and interior finishes. Over 90% of AEV products are even made within 200 miles of Detroit. 
Does AEV offer fully built Jeep and Ram vehicles?
Yes, they do! Currently, AEV offers the JK Wrangler, Recruit, Prospector, Prospector XL, and the Prospector XL Tray Bed.
Can you tell me more about the JK Wrangler?
Certainly! AEV describes the JK Wrangler as being 'An American Icon. Elevated.' The description is only fitting considering AEV's version of the Wrangler JK comes with a DualSport Suspension system that offers three levels of lift. The exterior features of the JK include a premium front bumper that's made out of 3/16" stamped steel and come with two ½" solid steel tow hooks that mount directly to the chassis. The JK also comes with a steel rear bumper and tire carrier that allows you to carry larger wheels and tires. The tire carrier also accommodates a Backup Light, Rear Vision System, JK Fuel Caddy, and Center High Mount Stop Light. An aggressive heat reduction hood also comes with the JK that features vent that delivers a constant flow of cool air even in tough low-speed terrain. 
The interior of the JK features exclusive leather seats that offer up a balance between livability, comfort, and function. The JK also features rugged floor mats in the front and rear that use beveled edges which form a pan to contain spills. The same design is carried to the trunk with the cargo liner. 
AEV also offers several options for the JK that include HEMI engine swaps, a snorkel, roof rack, rear corner guards, AEV badges, and differential covers. 
What is the Recruit?
The Recruit is AEV's version of the Ram 1500. AEV starts things out by beefing up the truck for the off-road by outfitting the Recruit with a DualSport Suspension System that raises the truck 4-inches. The 4-inch lift allows for larger tires and wheels and better clearance. The Recruit also comes outfitted with a front skid plate made from 4mm thick stamped steel, a Premium Front Bumper which can be outfitted with a 3/16" winch mount, MESA Wheels, and a Heat Reduction Hood with HD Front End Conversion. Optional features for the interior of the Recruit include an AEV Switch Bezel so you can run multiple auxiliary switches. This means you can easily control off-road driving lights, onboard air compressors, and air-locking differentials. 
Want to learn more about AEV vehicles and the wide range of parts AEV offers for your Jeep Wrangler or Ram truck? Then come on down to Rochester Hills Dodge Chrysler Jeep Ram to chat with one of our AEV knowledgeable associates. Already know which AEV part you want to outfit your Wrangler or Ram with? You can get in touch with our parts department by clicking here.