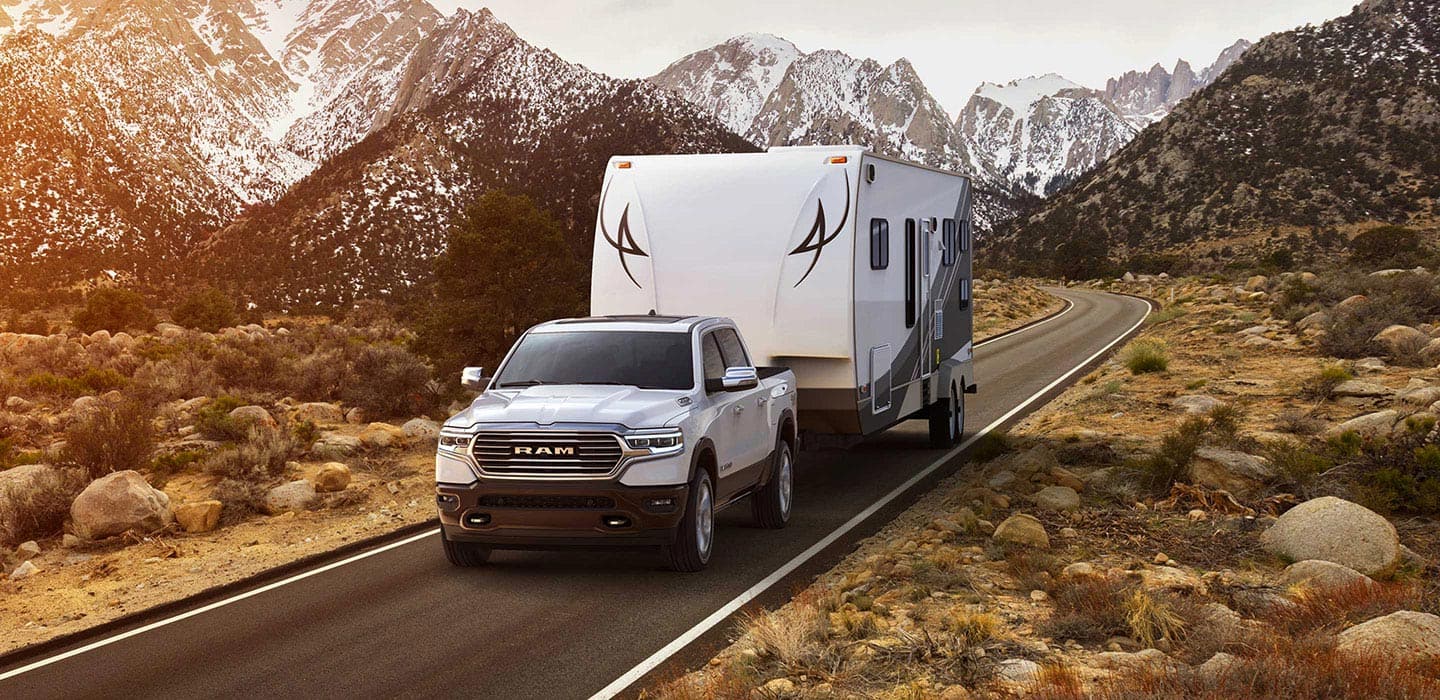 It's not easy being America's most powerful half-ton diesel pickup truck but the new 2020 Ram 1500 certainly makes it look like a piece of cake. The new 2020 Ram 1500 is able to produce the highest amount of half-ton diesel torque thanks to the third-generation EcoDiesel engine that is under the hood. Considering Ram continually leads the segment with best-in-class capabilities it really is no surprise they've done it again with the 2020 Ram 1500 EcoDiesel. Oh, and for the first time ever the EcoDiesel engine is available across the entire model lineup including the Rebel and with any cab/bed length configuration. 
Ram has exceeded expectations yet again with the introduction of the third-generation turbocharged 3.0-liter EcoDiesel V-6 engine which features exceptional fuel economy, minimal levels of noise, vibration, and harshness, along with increased torque and horsepower. The new EcoDiesel engine is rated to produce a best-in-class 480 lb-ft of torque at 1,600 rpm. To put that into perspective that's a 14 percent increase from the previous generation which peaked 400 rpm earlier. Horsepower of the EcoDiesel engine saw an 8 percent increase to 260 hp at 3,600 rpm. 
So how exactly did the new EcoDiesel engine achieve these improvements you ask? You're about to find out. Dual overhead camshafts on the new EcoDiesel use four valves per cylinder and have a 60-degree angle between the cylinder banks. The block uses compacted graphite iron bedplates to increased stability. While the block itself is also cast with compacted graphite iron which dampens vibration and ads rigidity. 
The strength and durability of the engine is further enhanced by means of forged steel connecting rods and crankshafts. On the underside, lightweight aluminum alloy pistons are cooled by way of oil jets. These aluminum alloy pistons were completely redesigned and now include a low-friction coating on the side skirts and pin along with thinner rings. The piston pin has been offset by 0.3 millimeters from the centerline to reduce NVH or noise, vibration, and harshness. NVH is further improved with the help of individual bearing caps being used on the heat-treated aluminum cylinder heads. Lightweight sandwiched polymer/metal material is now used on the power portion of the two-piece oil sump which also improves NVH.
Fuel economy and performance of the EcoDiesel engine is improved thanks to redesigned cylinder head intake ports which improve flow and swirl. Responsiveness and efficiency are increased during transient conditions due to a new-generation water-cooled turbocharger with variable geometry turbine. The design of the exhaust gas recirculation system has been updated to include a dual loop low and high-pressure system. The compression ratio of the engine has also been optimized from 16.5:1 to 16.0:1. 
We have to admit we're pretty excited to see this new engine in action when it arrives in the fourth quarter of 2019. While we impatiently wait for the new 2020 Ram 1500 to arrive on our lots later this year you can shop our current inventory of new Ram trucks right here!