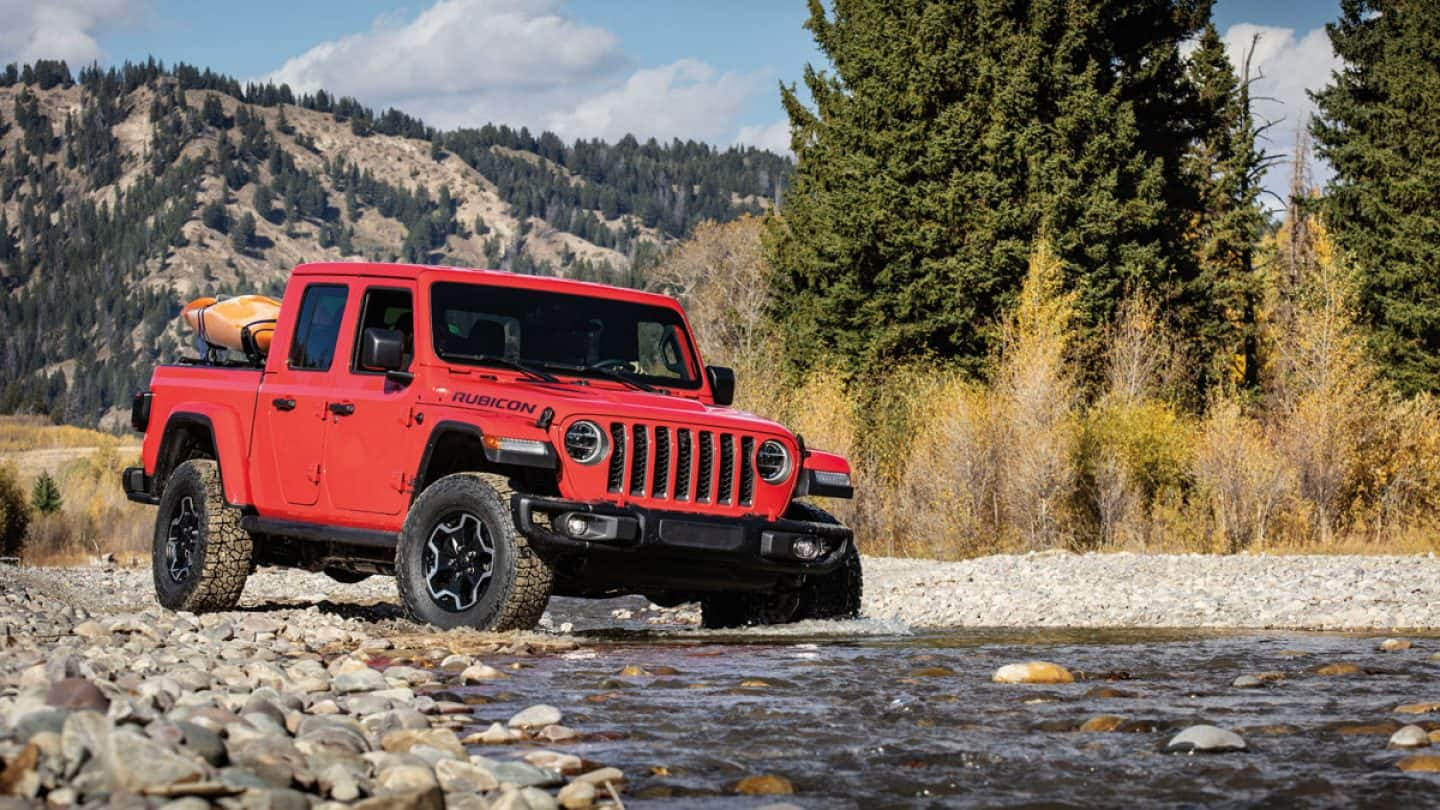 Jeep Gladiator vs Land Rover Defender 
Have you ever wondered how the Jeep Gladiator stacks up against the Land Rover Defender? Well, we were curious so we decided to pin the two against each other to see which off-road was really the more capable vehicle. The answer may surprise you, so keep reading to find out which vehicle dominates off-road. 
Off-Road Capability
Whether you love math or not, if you're an off-roader you know that geometry is important. Knowing angles and what your vehicle can handle is essential to figuring out if your going to make it up, over, and down that giant boulder that is standing in your path. Departure and Approach angles that are closer to 90-degrees are better for off-roading. Each version of the Jeep Gladiator comes standard with an approach angle of 43.6 degrees, a breakover angle of 20.3 degrees, and a departure angle of 26 degrees. The Gladiator also features a ground clearance of 11.1 inches. The Defender, on the other hand, has an approach angle of 38 degrees.
Drivetrain
Every off-road knows you need a pretty impressive drivetrain to get you through the tough conditions of the off-road. Jeep offers two different advanced 4x4 systems for the Gladiator. The Sport and Overland versions of the Gladiator come with the Command-Trac 4x4 system which features a two-speed transfer case with a 2.71:1 low-range gear ratio. These models also come with a heavy-duty third-generation Dana 44 front and rear axles with a 3.73 rear axle ratio. Jeep's Rock-Trac 4x4 system comes with the rock climbing Rubicon model. This system features a "4LO' ratio of 4:1 thanks to heavy-duty third-generation Dana 44 front and rear axles. Extra torque and grip are provided by Tru-Lock locking differentials. The segment-exclusive sway-bar disconnect on the Rubicon improves the crawl ratio of the off-roader to 84.2:1when equipped with the manual transmission and 77.2:1 with the automatic transmission. 
The Defender comes paired with an all-wheel-drive system that balances torque between all four wheels. The Land Rover also comes equipped with an active rear locking differential and twin-speed gearbox.  
Powertrain
The standard engine for the Land Rover is a 2.0-liter turbocharged gas-powered engine. This turbocharged engine is capable of pumping out 296 horsepower and 295 lb-ft of torque. The Jeep Gladiator is powered by a 3.6-liter Pentastar V6 engine that makes 260 lb-ft of torque and 285 horsepower which is ideal for both towing cargo and traversing trails. 
Price 
When comparing the two model it is hard to overlook the biggest difference between them, price. The Land Rover Defender starts out at $49,900 whereas the Jeep Gladiator starts out at $33,545. The range-topping Gladiator Rubicon at $43,545 doesn't even come close to the Defender's weighty price tag. With all that extra money you're free to modify your Gladiator with lift kits, new front and rear bumpers, and bigger tires. All of which further improve the off-road capability of the Gladiator. You could also take that money and spend it on an insane off-roading adventure or simply stash it away for a rainy day the choice is yours.
The Winner
After comparing the two models we would have to go with the Jeep Gladiator. Not only is the Jeep Gladiator a ferocious pickup truck that offers open-air freedom like no other vehicle today, but it is also a whole lot more affordable than the Land Rover. You can check out our entire inventory of new Jeep Gladiator models
right here.
Once you find one you like simply give us a call to set up a test drive.