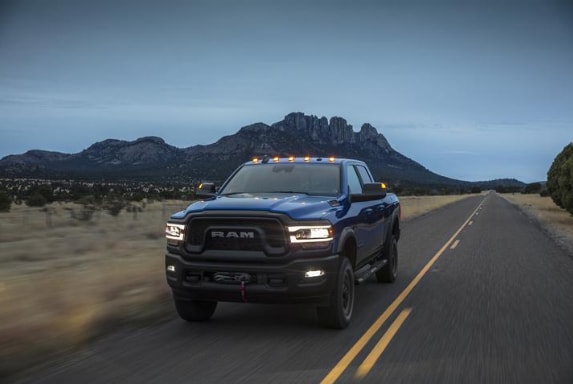 When you're looking at heavy-duty pickup trucks, you're not looking for something with skimpy power and handling. You want a truck that can tackle the tough jobs with ease, and look good doing it. That's where the 2019 Ram HD comes in. This pickup truck is the benchmark for performance, and you can guarantee that every time you step into this truck, you'll be getting the power that was advertised. Ram understands what consumers are looking for, and as important as technology and luxury are to everyone, at its essence, every pickup truck needs to be power hungry. We are excited to share more about what the Ram HD can do for you, so keep reading down below as we go through the power and handling of the most powerful pickup truck around!
Can you tell me about the power?
Power is the name of the game, and the 2019 Ram HD has it in abundance. The first engine you'll encounter is the proven 6.4-liter HEMI V8, which delivers a class-leading 429 pound-feet of torque and 410 horsepower. The other available engine comes in two variants. This engine is a 6.7-liter Cummins Turbo Diesel, which can crank out up to 400 horsepower and 1,000 pound-feet of torque. You heard that right, 1,000 pound-feet of torque. That kind of power can't be matched by the competition. You can also get this engine in another variant, which offers 850 pound-feet of torque and 370 horsepower. Those numbers are nothing to scoff at, and make sure that no matter the job, you can get it done. The 6.7-liter Turbo Diesel comes standard with a Aisin AS69RC six-speed automatic transmission. The standard output with that engine comes with a 68RFE six-speed automatic transmission. The last engine, the 6.4-liter HEMI, gets a TorqueFlite eight-speed automatic transmission.
What kind of handling do these trucks have?
There are many components that go into the handling of a vehicle. One of these aspects comes in the form of suspension. Every 2019 Ram HD truck comes with FRD shocks on all of the four corners. The different valves automatically adjust for the vertical wheel input, which allows these trucks to have a suspension that feels like a sports-car, which is amazing in terms of handling. The engineers behind the system have added upgraded bushings and progressive springs, which even includes a five-link coil design. Every load will be dealt with easier, and every trip will be smooth. This isn't the only suspension that comes with the Ram HD. There is an Active-Level rear air suspension that you can get on the 2500 and 3500 models. This air suspension comes with a new Bed-lowering mode that allows for easier trailer hook-ups. What makes this suspension so impressive is the use of two airbags that replace coil springs. Nothing is sacrificed with this change, there is only a gain of better handling and a better ride.
Heavy-duty pickup trucks refuse to make compromises, especially in terms of handling and power. That is why the 2019 Ram HD trucks knock the competition out of the way, and cruise towards impressive towing capabilities, and a smooth ride. We have a few
Ram HD trucks
in stock, and we absolutely encourage you to take a look! Every heavy-duty pickup will be the perfect addition to your life, especially if you'll be towing heavy loads. Stop by our dealership today!