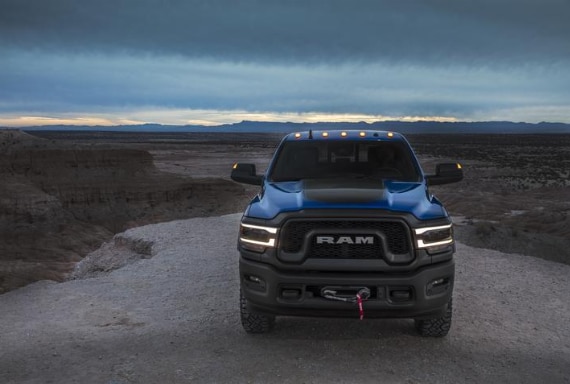 As you can already imagine, the 2019 Ram HD already has made an impression when it comes to power. However, you might not be aware enough of the design features that truly help this truck stand out. These design features, both inside and out, create an atmosphere of luxury and capability, with technology at the center of it all. Not only that, but Ram uses premium materials to make sure that your seats are as comfortable as ever. Really, the 2019 Ram HD fits in perfectly with the Ram lineup, and the modern day truck. Capability is still important, but with people thinking about their families, you need something that works well not just for important and difficult jobs, but for the daily-driver. If you want to learn more about the 2019 Ram HD and the design features that you'll find, keep reading!
What are the interior design features?
The Ram HD gets a brand new instrument panel in 2019, which includes a structurally interlocking appearance, an improvement on overall reachability, and central controls that are pushed up towards the driver. You'll also be getting a 12-inch fully configurable touchscreen with a Uconnect 4C NAV system. This system can display one applications, like navigation, or it has the possibility to be split in half an show off two applications at once. The driver information system is also new this year, as it features and available 7-inch display, which enables you to personalize information on the instrument cluster. Throughout all of the available trim levels you'll be getting push-button start, and a new shifter area that has transfer case controls, axle lock, and hill descent control. On some trims, to make the overall ride quieter, you'll find an active noise cancellation system, along with acoustic glass. This is the quietest Ram HD ever, and it will be the most comfortable thanks to the HVAC system. While producing lower noise levels, there is also a front defroster vent that has better performance than ever before. For anyone wondering about keeping their devices charged, there are five USB ports in the center console, and there are up to 3 available 115-volt household plugs that you can add.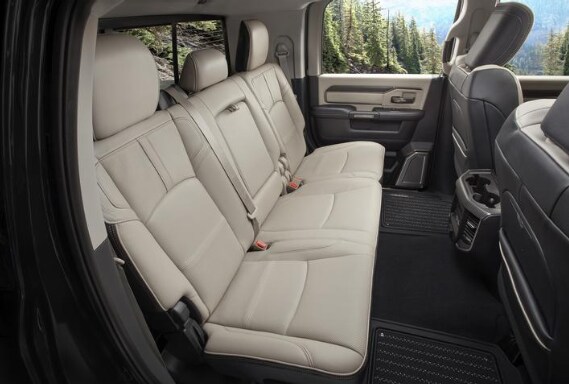 What are some exterior design features?
The Ram has an aggressive and rugged appearance, but thanks to a redesign it is as aerodynamic as ever. Designers helped to combine elements using an interlocking design. The fenders, hood, and grille, all share different pieces with one another to help with capabilities. The hood itself is now a lighter aluminum wood, and the grille is larger and more aggressive than ever before, which shows off more confidence. In fact, there are 6 grille styles that are available, which do stray from the historic crosshairs, but show off more of an attitude. Along with the grille styles, there is a new front bumper, which produces greater airflow to a turbo intercooler. In terms of headlights, there are three different variations available. These include full LED/projector with AFS, full LED/reflector, and halogen. In the back, Ram HD offers RamBox, which includes drainable storage bins that are illuminated and built in, along with being versatile and weatherproof. New to RamBox in 2019 is a 115-volt outlet.
Ram understands the importance of functionality, especially with a truck that was built with power in mind. That is why, both inside and out, the 2019 Ram HD makes trips easier, and more fuel efficient than ever. Be sure to check out our full
2019 Ram inventory
to make sure that you get a look at these powerful trucks that have the attitude and capability that you're looking for.